Free Weekly Tarot
my gift to you
Your cards for the week commencing 11 October 2021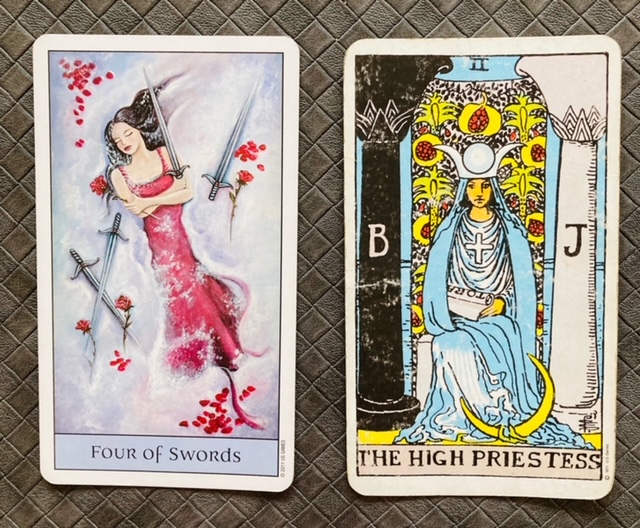 Four of Swords and The High Priestess
How are you this week? Are you feeling OK? Are you sure? I am not suggesting that anything is wrong, but usually we only think about those questions deeply when someone else asks us, we almost never take the time to ask the questions to ourselves.
If you saw a friend feeling a little worn out or acting not quite like themselves you would definitely check in with them, because we care about the people in our lives. But, the person that is in your life the most – the one you spend every single minute of the day with is yourself. So, I feel this week the Four of Swords is asking you to take the time to check in with yourself and make sure you are ok.
As you can see the lady in the Four of Swords is lying down in the snow, she is not dead as we can see her hand still grips her sword tightly as she must feel as if she needs her wits about her. But, for now, she seems to have no choice but to take some time out.
This week, you may find yourself in the same situation, those of you who have been mindful that you need to take care of yourself may find this week that you can finally enjoy a long awaited break and are happily lying on a sunbed enjoying a margarita or two. Or as you watch the seasons change and get ready for winter (or summer depending on your hemisphere), you may decide to have a duvet day with your partner and cosy up in your pyjamas, eat comfort food and watch films. It's funny how even one day of these activities can re-charge us in such a positive way.
Alternatively, you may have been ignoring your own wellbeing a little; maybe working too hard or rushing about too much? The universe has funny ways to ensure that you too get that time to recharge but, it could involve suddenly finding yourself full of a cold and needing to spend a day in bed or in some cases you may find that an unexpected situation occurs – a cancelled meeting or an I.T failure which stops you from getting done those important tasks, leaving you with time on your hands. These too are those little moments we are given to make time for ourselves even for a few hours.
Why are we being asked to do this now? Well, at the moment we are beginning to come out of an intense period where six planets were in retrograde at the same time. Saturn has just turned direct, and at the end of this week Jupiter and Mercury will be going direct too. I often feel that retrogrades are a reminder that we are allowed to slow down sometimes and even stop for a little while. We cannot always keep moving with the fast pace of life, it can be exhausting and counter-productive finding us going nowhere fast.
Our second card this week is The High Priestess. To tune into The High Priestess we need to be in a good place physically and emotionally. Often when we ignore our own needs we can feel out of sync with our soul and life's purpose. If we have given ourselves a rest we will be ready to move. As the planets move directly we can start moving in the right direction too. And, hopefully, if you have listened to the inner voice that whispers in the quiet stillness of our resting mind then you will know exactly which way that is.
Whether your time to rest is chosen or forced try and take it as a blessing, as it is a wonderful chance for you to work out what is really important to you and where you want to go from here.
---
Copyright © 2021. ClaireChilvers.com. All Rights Reserved. Privacy Policy.
Website Designed & Hosted By C@rrie – 07710443223.