Free Weekly Tarot
my gift to you
Your cards for the week commencing 11 April 2022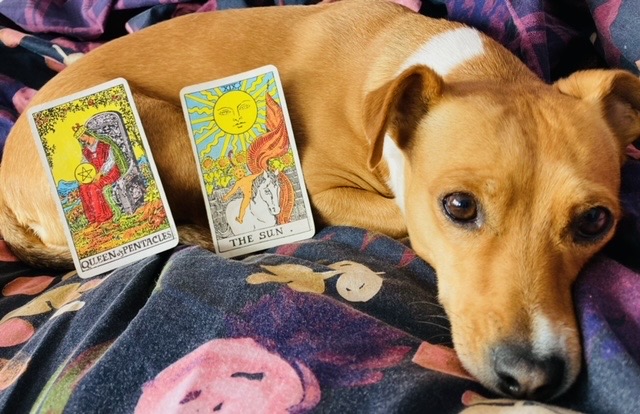 Queen of Pentacles and The Sun
The word 'gratitude' popped into my head when I saw these two cards gleaming at me today with their vibrant colours and cheerful images. And it was certainly a wake-up call for me that I have so much to be grateful for. This week has been very challenging for me, as I have battled with another migraine that left me exhausted and spending the best part of forty-eight hours drifting in and out of sleep and, I also found out that, due to work commitments, my partner will not be home for the whole of Easter which is going to be tough for us both as he has only been home for about thirty days in 2022 so far!
But, without sounding like a cliché, sometimes life gives you lemons and these cards reminded me that I should draw on my positive, optimistic attributes and work out how to make some lemonade. And I hope that they bring out the same feeling in you too.
Examining at the Queen of Pentacles card, I am looking closely at her expression as she focuses on the coin that she holds in her hands. She is reminding me that we all have a tendency to fixate on one thing and can ignore what else is going on around us. In the tarot, pentacles can often symbolise money or material gains but, the 'bigger picture' that the Queen of Pentacles shows us is that we are usually surrounded by beautiful abundance and often do not realise it. The message for us here is to see what we have at this moment and what we are grateful for, because, we can all find something if we try hard enough.
Have a look at her card for a moment and see if you can find the beauty in it that you, perhaps, did not see before. Can you see the fruit ripening on the trees or the roses in bloom, the mountain stream providing clear, blue water and the intricately carved throne that she sits on? Have you spotted the little bunny hopping into the picture? Well done if you did, it took me years to find him – perhaps I was focusing on the wrong things and he presented himself to me at exactly the right time (rabbits, after all, can symbolise new beginnings, growth, abundance and good luck).
Once you have noticed the beauty in the card, take a moment to look around your own surroundings and focus on the things that make you happy and grateful. As I look around my own room as I write this, my initial gratitude goes to Poppy, my dog, who cuddles up to me every week when I write these articles to you. I notice trinkets and ornaments that remind me of friends, family and happy occasions and can't help but be a little proud of myself for recently decorating this room and making it look so cosy! And, as I think about these things the disappointment of missing a few days to illness does not seem so bad and I am reminded that, although my partner is working away, the love we have for each other is still in our hearts and won't diminish because he is in a different part of the country!
Sometimes it takes practice, but, being grateful for what you have is a more pleasant way to spend each day, which brings us nicely onto the message from our second card, The Sun. This Major Arcana card shows a naked child, smiling happily ahead whilst on a pure, white horse. He is waving a red flag and wears a crown of sunflowers which match the ones standing proudly behind him basking in the shining sun who dominates the sky.
The Sun is a card of celebration and joy, sometimes it can symbolise a holiday or period of rest and rejuvenation. But, I feel this week, as it is paired with the Queen of Pentacles, it is giving us a reminder that we are all entitled to a little joy in our lives.
What brings you joy? Is it meeting with family and friends? Is it a day out shopping or on the golf course? Or perhaps it is a walk in the park with your dog or an afternoon at the gym or swimming? When was the last time you picked up your hobby or baked a cake or treated yourself in some way?
Little treats and having fun are an important part of life for everyone and they do not have to be expensive. Sometimes the best days out or the most cherished memories are occasions that cost nothing at all.
This week, as many people wind down for some time off at Easter, perhaps this is a great message from our cards to appreciate what we have and take time out to find or spread a little joy.
When I look at the child's jubilant expression in The Sun card, it makes me smile. Smiling, laughter, and joy are all infectious and if we take the time to find them in ourselves we can pass them on to others too.
I hope these cards have inspired you to focus on gratitude and joy this week.
Sending lots of love to you all.
x
---