Free Weekly Tarot
my gift to you
Your cards for the week commencing 10 October 2022
Welcome to this page which is packed full of complimentary tarot readings for everyone to enjoy. I hope you find these resonate with you and are helpful in some way.
If you would like your own personalised reading from me, I can provide readings via email or video links. Please click here for more details.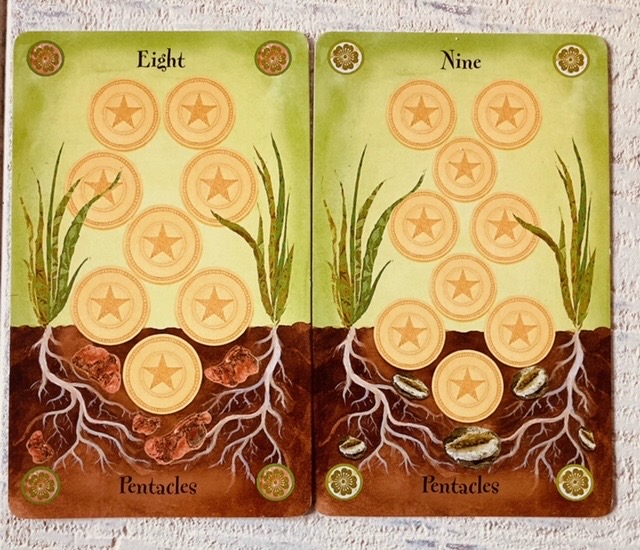 Eight of Pentacles and Nine of Pentacles
We have a different tarot pack this week, yet, the same card has come out! The Eight of Pentacles (also known as Eight of Materials) has reappeared. And, at a glance, this week's cards look more like a spot the difference competition than a reading, but the second card has one more pentacle which felt to me the message was we are very shortly going to be taking a step forward.
I still feel the essence of the Eight of Pentacles/Materials card from last week, which generally relates to being bogged down with tasks, chores or the heaviness that can be our everyday life. But, the crystals which are glistening in the ground of both cards seem to reflect the inner healing that we are also doing whilst we carry out those duties or obligations.
When we have a lot on our plate it is usually because we are working towards a goal or ending or if the heaviness is due to our circumstances it can feel like we are needing to work through our feelings or process information that is taking time and consuming our thoughts.
Having the Eight appear twice in a row is a confirmation that this has been a really tough time and you should certainly acknowledge that and be gentle with yourself. Having two pentacles side by side is also a promise that recognition and rewards are coming your way. This could be in a material sense such as a financial gain or it could be the inner achievement of finally understanding your own self-worth or using your own unique gifts to start manifesting your dreams. But, a change is coming and it is definitely for the better.
Have you noticed that the pentacles on the right are smaller? Have you also noticed that they are stacked in a much more stable and structured way? If we were to put one more pentacle on the pile on the left, it feels like the whole stack would implode. Yet the nine pentacles on the right are perfectly placed to add an extra pentacle on top and complete the set.
How does this resonate in your own life? Have you needed to let something go or has something gone from your life which is now making way for something better? Have you decided to down size your house or sell a few possessions to free up cash for a new project? Or are you re-assessing your finances and becoming more organised with where you spend your money?
These different pentacle structures are certainly highlighting the fact that we could all benefit from looking at all the areas of our life and assessing if they are well balanced or if they are at breaking part and in need of a little readjustment.
I feel incredibly positive when I see these two cards together because they show us a clear path. I shuffled and shuffled the cards but two cards came out that are in a sequence, which reminds me that no matter how topsy-turvy our life feels or how many curve balls we are thrown, there is a true spiritual path for us all to take and the universe is always there to help and encourage us along the way.
---