Free Weekly Tarot
my gift to you
Your cards for the week commencing 10 May 2021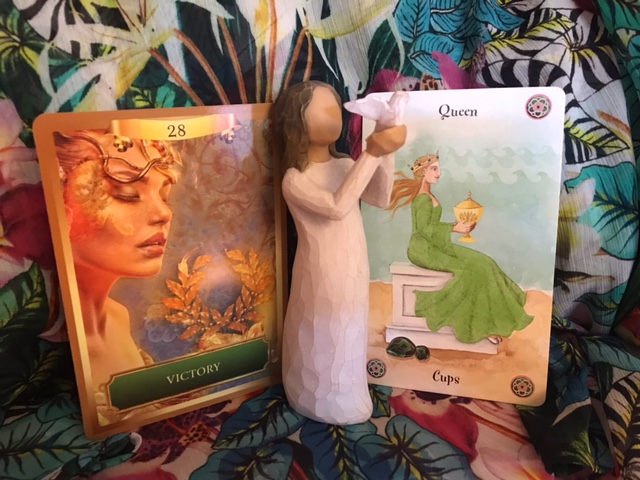 Victory and the Queen of Cups
There are some huge energies working around us at the moment and this week we also have the New Moon in Taurus which is setting the stage for a powerful eclipse season that is starting in a few weeks' time.
Do you feel change in your own life? Do you feel yourself being moved to a new level of consciousness or being moved physically to a brand new place in your life? Or maybe you are feeling that your life doesn't seem to fit anymore and there is a better place for you to be?
While I write this I am thinking of us all as chess pieces being moved into the perfect position by the universe. Being a good chess player means being able to see so far ahead that you can easily work out where you need to put your players for the best outcome. But, in this scenario, we are just the chess pieces not the players and we are put in circumstances that sometimes make no sense to us, because the universe is understanding the bigger picture and how important our own individual piece is in it.
Staying with the chess theme, we have Victory and the Queen of Cups as our cards this week. Queens are powerful pieces and this one seems very content to be the central figure this week, She seems so confident and in control despite the ocean waves that can engulf her at any minute. She can sense the Victory behind her so she can look forward with a sense of achievement and positivity. She is not afraid – not anymore, those days are gone.
In both these cards the colours of gold and green are prominent. Gold is often associated with success and the colour green, feels to me, that it is asking us to concentrate on our heart chakra. I feel our message is to ask ourselves how we have succeeded in transforming our heart? And to focus on the successes and victories we have felt to become the person we are today.
You may not resonate with the card Victory, as it can conjure up an image of being driven through the streets on an open top bus with a ticker tape parade being held in our honour as waving, cheering crowds applaud our success – and, obviously, we have not all had that kind of victory. But that does not mean we cannot be victorious.
And to be teamed up with the Queen feels very poignant, if we concentrate on our victories it helps us grow and, very much like our Queen of Cups, we can look forward to the future with a calm, balanced and positive frame of mind.
Victories come in many ways. For a long time I felt my own personal victory would be getting a book published. I dreamed about it so much that it often over shadowed other successes that I accumulated on my life's path both in my writing career and other areas of my life. I can't pretend that this isn't still a dream of mine, but, nowadays I see myself as a writer (not just someone desperately pretending to be one) and that has led me to feel victorious. The inner journey of believing in myself was so much more important than the external goal that everyone else would see. Through knockbacks and disappointments in not getting a book published, I now feel more like a writer than ever before and this has led me to face the future with excitement, regardless of where it sends me and the knowing that I am enough just as I am, regardless of whether I get that lucrative signing!
Inner victories are numerous and we should celebrate them more. When a person succeeds by overcoming mental or physical health issues this is a victory, no matter how small. Or when a person becomes proud of themselves and understands their own self-worth or learns to live in the present moment or let go of past trauma that has been holding them back – these are all huge victories. They often are more valuable that the outer victories that other people congratulate.
Recently, I have seen a few documentaries of very successful sportsman and women who have won gold medals as Olympians, but, once retiring have been met with mental health issues as they struggle to find out who they are once winning gold medals was not their focus. The Queen of Cups is reminding us this week that our biggest victories do not always mean material gains. The most successful outcome for us all is peace of mind and emotional balance. The spirit of the Queen of Cups, reigning victorious over her emotions, is within us all.
Imagine a world where everyone was happy with their inner self. We are not responsible for making others feel this way, but, we certainly can do whatever it takes to give ourselves that inner contentment.
The world is changing and the energies around us are calling us to change too. The New Moon this week is signalling changes, but that is ok, because every single one of us has awesomeness within us to cope.
I feel these next few months will be the start of an adventure for all of us, we are being given the opportunity to grow, explore and ascend to higher realms emotionally and spiritually.
Last week, our warning was not to be envious of others and see the beautiful, abundant life that we have. This week seems to be urging us to abandon fear and walk towards the future with our heads held high. As we move towards the eclipse season be sure to start claiming more victories, both big and small, and be proud of who you are as you walk towards your future.
x
---
Copyright © 2021. ClaireChilvers.com. All Rights Reserved. Privacy Policy.
Website Designed & Hosted By C@rrie – 07710443223.