Free Weekly Tarot
my gift to you
Your cards for the week commencing 01 May 2023
Welcome to this page which is packed full of complimentary tarot readings for everyone to enjoy. I hope you find these resonate with you and are helpful in some way.
If you would like your own personalised reading from me, I can provide readings via email or video links. Please click here for more details.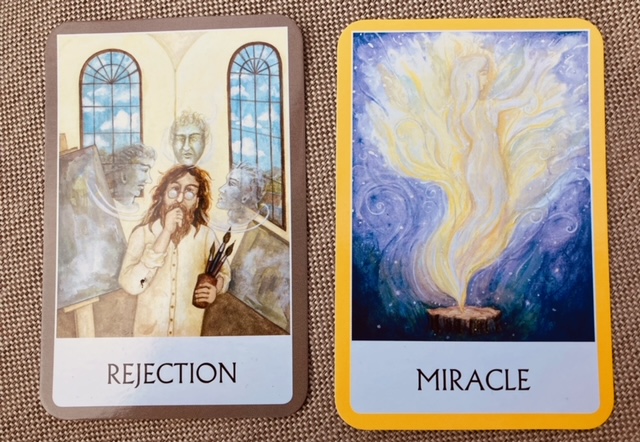 Rejection and Miracle
I have some new cards – how exciting! And, this is the very first time I have opened them and shuffled them. Consequently, I couldn't tell you what the other cards are in this pack or how they differ from these ones, but, I thought I would just throw myself into reading with them and see what happens.
It occurred to me that a few years ago I wouldn't have done this. I would have been terrified that I didn't know something significant or got a factual piece of information about the cards I was using wrong. So, it seems very apt that the cards I picked today sum up the two types of thinking that we can experience when we are trying to be creative. Namely, worrying about rejection or holding our hands up, allowing the light in and opening our minds to make miracles happen.
I am also aware of the amazing synchronicity for the Rejection card to be a painter painting landscapes who is stopped in thought as imaginary people cast doubt on his venture. I am currently reading a book about John Constable, a British painter from the 19th Century. For those of you not familiar with him, he is widely regarded as Britain's greatest landscape painters and, primarily, painted scenes from his native county of Suffolk, showing the beauty and simplicity of nature in this part of the world (albeit I am a little biases when I say this, as it is only about an hour away from my own part of the world!)
John Constable was lucky enough to be an artist who was recognised as great within his own lifetime, but, this did not mean that he didn't have decades of self-doubt, anxiety, depression and financial hardship. The early part of his career seems to be summed up perfectly in the Rejection card. And his rejection was largely because people didn't "get" him. In the Georgian era, in which he lived, the most popular pictures were portraits. The rich and famous would fall over themselves to be painted – either as themselves or placed within a theatrical historical scene (the 19th century equivalent or filtering!). But, John felt that nature was so beautiful – so special – that it should not be the background of paintings, it should BE the painting. People laughed at him, mocked him, belittled him and (even his own father) publicly acknowledged that it was unlikely his painting would ever amount to anything.
But, there was a part of him which couldn't be swayed and although at times he doubted his ability, he knew that he had to show the world the beautiful place that nature had in his heart and how it should be admired by everyone.
Fast forward two hundred years and his paintings are displayed proudly in London's National Gallery and people gaze admiringly at his work and are thankful for what he has contributed to society. The Miracle card seems to sum this part of his story up wonderfully. He was determined not to let the light within him be distinguished and, two centuries on, it is still shining and making an impact on the world.
So, history lesson over, how does this tie in to our reading this week? Well, you may have noticed that we are in the middle of an eclipse portal. The full moon in Scorpio which will occur this week on the 5th May will be a lunar eclipse, which pairs with the solar eclipse we had a couple of weeks ago. This energy is intense and, if you have had life changing situations happen to you over the last few weeks; epiphanies, closure, new beginnings or anything else that feels like you have been catapulted into a new part of your life, then you are definitely connected to this amazing energy.
Now, with that in mind, take a look at the two cards. Rejection is scary, upsetting and can make us doubt ourselves, but, our minds shouldn't be full of what other people think of us. It has the capacity to be so much more creative, passionate and expansive. The Miracle card shows how we can feel when we allow the beautiful energies of the universe to permeate through us and out of us. We become one with our surrounds and synchronicities and miracles start to happen in our lives.
We all have our unique personalities that we should shine out for the world to see. Not everyone will understand, like or be supportive of what we are doing, but, that doesn't mean you should stop being you and striving to live the life that you want to live and create what you want to create.
Every moment we allow our mind to ponder on the critics, haters or well-meaning loved ones who unintentionally trample all over our dreams, is a moment wasted.
This week, as the full moon lunar eclipse reminds us that the universe is miraculous, remember that you are also part of that universe and can create miraculous and spectacular moments for the world to see too.
---